Forget Me Not
'Forget-me-not' is a box of memories whose contents disappear, as happens with the memory of people with Alzheimer's disease. This project was an initiative of Gal·la Basora and Marc Morales in collaboration with Alzheimer Catalunya Fundació in order to reflect the consequences of Alzheimer.

They contacted me to collaborate in the photoshoot of the box and I immediately knew that Marta Martín (@yanosvemos) was the perfect photographer for it. We decided to integrate the box into the environment of a person with Alzheimer's disease, trying to be in tune with the meaning of the project. I also wanted to take a more technical shot of the box, in which the details and materials could be better appreciated. That's why I contacted with Manel Cano (@manel.cm) to take some studio photos too.
Creative Team: Gal·la Basora, Etty Flynn, Marc Morales
Copywriter: Gal·la Basora
Art Director (editorial): Marc Morales
Art Director (photography): Blanca Campins
Documentary Photographer: Marta Martín Heres (@yanosvemos)
Study Photographer: Manel Cano (@manel.cm)
Making off: Stefon Grant
Prologue: Xavier Graset





︎︎︎Photographer Manel Cano (@manel.cm)︎︎︎




︎︎︎Photographer Marta Martín (@yanosvemos)︎︎︎


...
Each sheet inside the box was printed using a technique that made the content progressively disappear, recreating what happens in the mind of people with dementia. It was done with 'positivation', a method used to develop analog photos. The ink of the paper was not sealed, so when the box was opened and the content was in contact with light, it was progressively erased.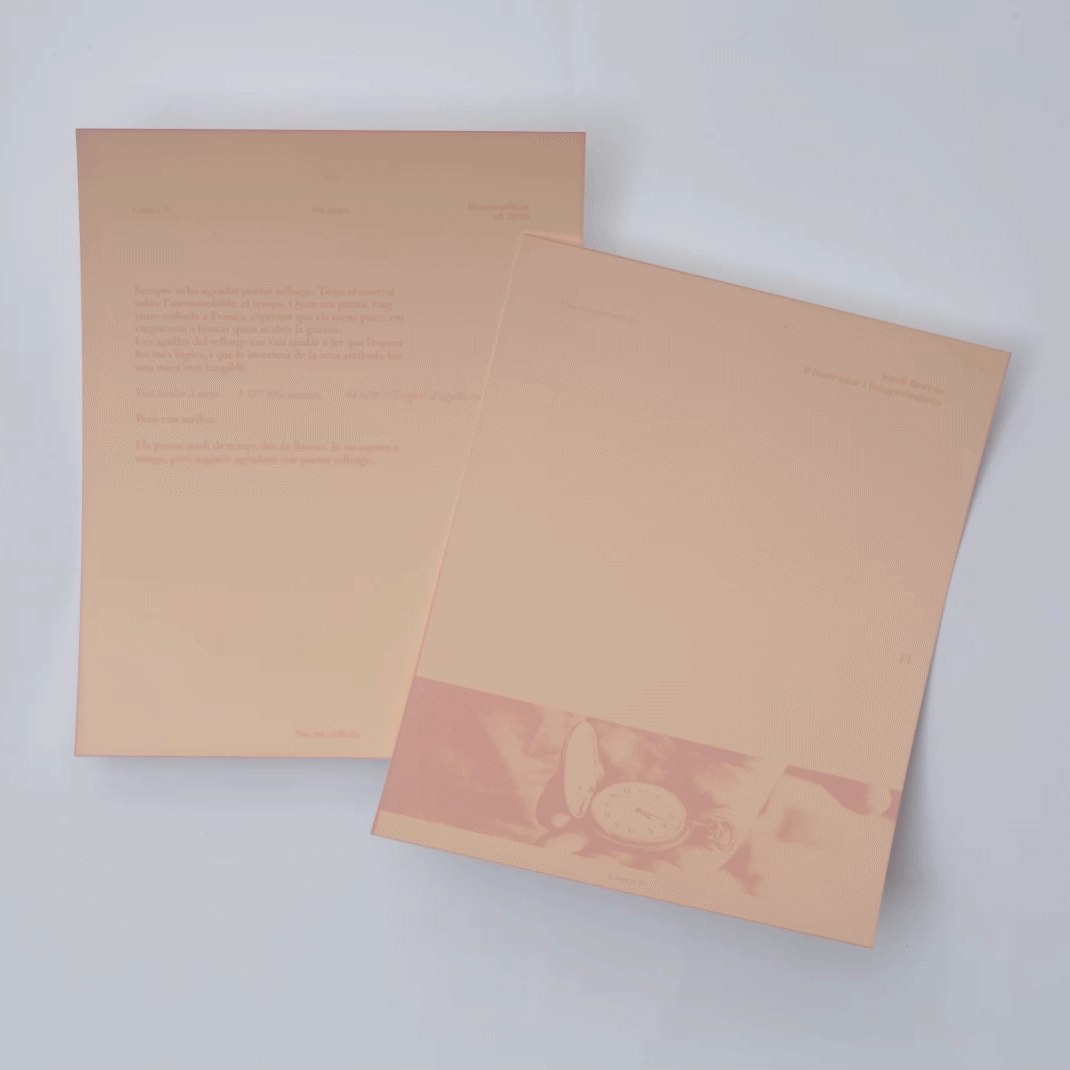 ︎︎︎Photographer Marta Martín (@yanosvemos)︎︎︎
...
The box contains the memories of 25 people with Alzheimer's and 25 reinterpretations made by people from the world of art, communication and sport. Among them, the singer Joan Dausà, the illustrator La Prados, the journalist Toni Soler or the motoGP rider Maverick Viñales. This inspired Marta and I to take some pictures that represented different memories written in the box.
Artists involved: Víctor Amela (journalist), Jordi Borràs (journalist), Eulàlia Cucurella (Alzheimer catalunya fundació president), Joan Dausà (singer), Felipe de San Pedro (illustrator), Isabel Feliu (illustrator), Juanjo Fernández (illustrator), Manolo García (musician), Ricard Gili (musician), Hausson (magician), Andrés Herrera (actor), La Prados (illustrator), Mag Lari (magician), Julio Manrique (actor), Rafel Nadal (journalist), Isahac Oliver (creative director), Marc Pallarès (illustrator), Eva Piquer (writer), Gabriel Salvadó (illustrator), Anna Solà (illustrator), Toni Soler (journalist), Toti Soler (musician), Josep Traver (musician), Montserrat Tura (politician), Maverick Viñales (motogp rider).
FORGET ME NOT © 2022